I Cried when Glory Died
Glory, my golden retiever, passed away three Christmases ago. I thought I was strong - boy was I wrong! This really got me going - thinking about my business - engraving plauqes & plates. I looked over all the orders and realized how many other people greive the passing of their pets. So many of the plates we engraved are for pet memorials.
Pet Memorial Solutions
There are all sorts of solutions that you see listed to the left. We have solutions for outdoor and indoor memorials. It is really up to you to decide the best solution for you. We all greive differently and we all want to remember our pets that show off their personality and their relationship to ourselves.
If your pet loved the outdoors - always bugging you to go out, the outdoor memorial maybe the best choice.
Pet Photo Memorial
If you have just the perfect photo of your pet have it framed and add an engraving plate. We also have black marble that your photo can be turned into a work of art to hang in your home. We etch the image into the stone.
Custom Engraved Pet
Memorial Stones
We have Tennesse Whitestone, Granite and Marble, Pennsylvania Bluestones and Carved Cast Stones that can be engraved with a special message of your choosing for your pet. In the Carved Cast Stones we even have a dog bone shape.
The possibilities are endless. Take you time going though all the options to the left before making your decision.
Park Bench Pet Memorial Story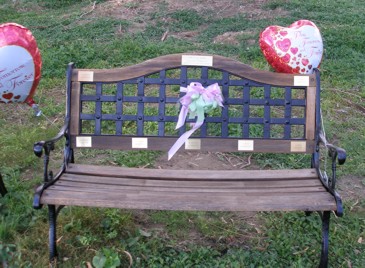 I recently ordered a number of brass plaques. I live in a golf community at La Quinta, California called Tradition (Near Palm Springs). The Club has been in existence for ten years and has a mixture of Midwesterners, Californians and Canadians amongst others. For years...everyone fell in love with a big fluffy Black dog by the name of Grover (mostly Portugese Water Dog). He endeared himself to all including Arnold Palmer who stays here a lot and designed the course.
Two years ago Grover passed away and I promised Bruce and Kathleen Lehman (his owners) that I would create a fun memorial for Grover. Thus the plaques which were placed on two classic park benches and put in a park that we all gather in here at the Club. Last Friday we had a gala memorial celebration and about 80 people attended and at least 25 dogs. I bought plaques also from you to memorialize our beloved dogs which have passed since we all moved here.
I am attaching some pictures with this email and then forwarding some large group shots in a follow up email. Thanks for such speedy and accurate processing of my two orders. In the future Kathleen will be ordering more plaques for added dogs we missed.
Best of luck to you all and thanks again!

Bob Lichter


Engraving Connection
1205 S. Main St.
Plymouth, MI 48170
877-829-2737
etched@engravecon.com